Congratulations to suppliers from Kansas on NASA's historic launch of Artemis I
NASA's Artemis I lifted off from Kennedy Space Center early Wednesday morning. I want to congratulate NASA and the suppliers throughout Kansas who helped make this mission a success. As a top contributor for NASA, I have spent the last few years traveling to NASA suppliers across Kansas and across the nation who have worked for years to advance the Artemis mission. I also had the opportunity to host then-NASA Administrator Jim Bridenstine in Kansas in 2018 and 2019. Earlier this summer I hosted NASA Administrator Bill Nelson in Kansas. Seeing the successful launch from Kennedy Space Center was humbling knowing the dedication and talent years in the making to achieve this feat. Sixteen suppliers across Kansas contributed to the success of this mission and many more will be involved in the years to come.
This week marked a new era for our nation's space program. I look forward to continuing to support this important mission and to seeing firsthand the benefits to come from this new exciting era of space exploration.
For the full list of Kansas suppliers who contributed to the Artemis I mission, click here.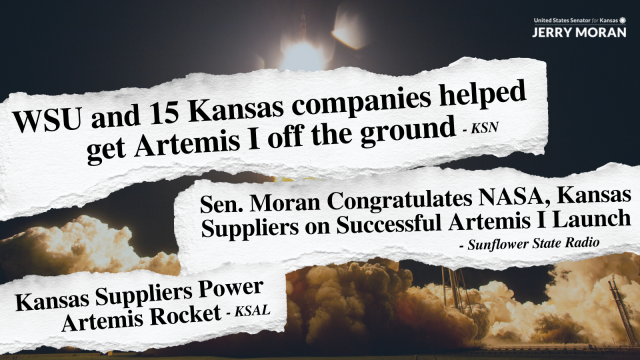 Meeting with harvest workers
On Thursday, I met with Karen Siebert, an Advocate and Public Policy Advisor for Harvesters – The Community Food Network and Association of Kansas Food Banks. We spoke about the increased need for food aid as many in our communities face food insecurity. As inflation continues to rise, the rising cost of food is placing an increased burden on many families in Kansas. As co-chair of the Senate Hunger Caucus and a member of the Senate Subcommittee on Agricultural Appropriations, I have investments in federal nutrition programs such as Emergency Food Assistance Program (TEFAP) to provide food and basic necessities to help those in need.
As we celebrate Thanksgiving, I want to thank those who volunteer or donate items to a local charity. If you are able, I encourage Kansas to donate food this Thanksgiving to help those in need. To find a local food bank in Kansas, click here.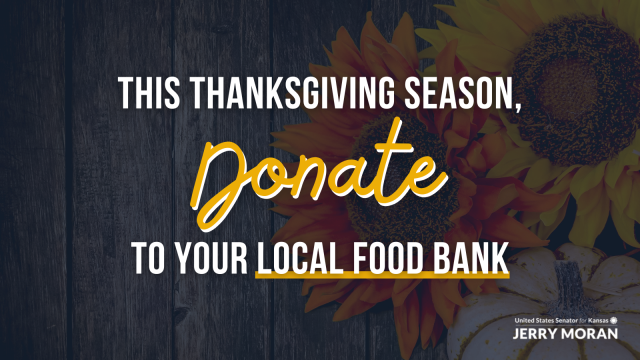 Veterans Affairs hearing continues PACT Act implementation
On Wednesday, the Senate Veterans Affairs Committee held an oversight hearing with witnesses from the Department of Veterans Affairs on the implementation of the SFC Heath Robinson honoring our PACT Act. That PACT Act is the largest expansion of healthcare and benefits for veterans in VA history. As the VA works to fulfill the promise of this legislation to provide long overdue care and benefits to all generations of veterans exposed to toxins, from those exposed to Agent Orange in Vietnam to those who burn pits in the Iraq and Afghanistan, it is important that Congress ensures the VA is following the law and connecting the right veterans with the right care and benefits at the right time.
I remain concerned about the operational impact this legislation could have on the VA, and will continue to work with the department and my colleagues in Congress to ensure the VA is making full use of all the tools at its disposal to serve veterans to serve in the best possible way – both for first-time applicants and applicants for benefits as well as for those already insured in the system and their surviving dependents.
I encourage veterans and survivors in Kansas who believe they are entitled to care or benefits to call 1-800MyVA411 or visit www.va.gov/PACT to connect with people who may be able to assist with registering for VA care or applying for benefits.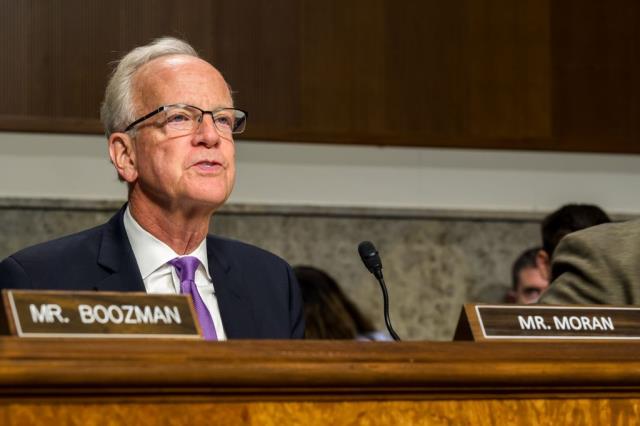 Meeting with General Rainey
This week I met with General Joseph Rainey, the new commander of Army Futures Command. General Rainey was previously the commanding general of the Combined Arms Center at Fort Leavenworth and I appreciated the opportunity to see him again and talk to him about this new role. We talked about his new position at Army Futures Command – a command with a mission to help the Army modernize and build the Army of 2030. We also talked about how Kansas can continue to help the Army meet its modernization priorities.
I look forward to working with General Rainey on this mission. I also look forward to him joining me in Kansas to witness firsthand the collaboration that exists between industry, academia and the Department of Defense to highlight the opportunities for innovation and partnership in our great state. Many thanks to General Rainey for his work on this important mission.
Giving certain Kansans access to broadband services
The Federal Communications Commission (FCC) publishes a draft of new broadband deployment maps showing where broadband coverage in the US is and isn't. This is an important first step in identifying where federal funds are most needed and is the result of years of work between Congress and the FCC. In 2019 I sponsored them Broadband Data Actwhich required the FCC to create accurate maps using data from broadband providers and required the FCC to implement a process through which consumers and other stakeholders could contest the accuracy of the maps.
Many areas in Kansas still lack access to basic broadband service, a modern necessity for business, education and healthcare. Next year the final version of these maps will be used to allocate funds for broadband deployment, so it is important that these maps are accurate. I encourage Kansans to review their residential and business locations to ensure accurate information is being displayed to ensure the federal government is efficiently and effectively allocating resources to connect people across our state.
Meeting with the Kansas Soybean Commission
Thank you to the members of the Kansas Soybean Commission for joining me this week to discuss issues affecting Kansas agriculture and the renewable fuel industry. During our meeting we discussed the importance of the biodiesel tax credit for the soybean industry as well as the Renewable Fuels Standard and the importance of continuing to support sustainable growth in clean fuels.
I would like to thank Topeka's Kaleb Little, CEO of the Kansas Soybean Association, Dennis Hupe, Topeka, Director of Field Services for the Kansas Soybean Association, Dennis Gruenbacher of Andale, and Bob Haselwood of Berryton for meeting me and for their updates on this for our state thank vital industry.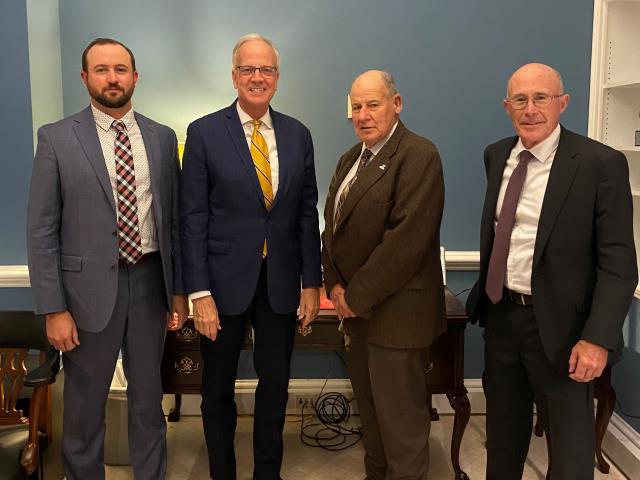 Meeting of the Finnish Committee on Foreign Affairs
On Thursday, I met with members of Finland's Foreign Affairs Committee to discuss shared concerns about European security, with a focus on Russian aggression in Ukraine. They were grateful for America's continued support, and I appreciate knowing their belief that Europeans can and should do more to defend Ukraine. It is important that our allies translate this belief into reality. It is also important that Hungary and Turkey approve Finland to join NATO. The Senate voted overwhelmingly last summer to welcome Finland and Sweden to the alliance. The Finnish people have long been a trusted partner of the United States, and their inclusion in the NATO alliance will serve to deter further Russian aggression. I would like to thank my colleagues Senator Susan Collins of Maine and Senator Jon Tester of Montana for their work in making this conversation possible.
Hearing of the Banking Committee
During a Senate Banking Committee hearing on Tuesday, I questioned incumbent Federal Insurance Deposit Commission (FDIC) Chairman Marty Gruenberg about his decision to withdraw the banking regulator's grievance process without public announcement or comment. Providing banks with a fair and effective supervisory review process is essential to maintaining a healthy and transparent financial system. I also asked him about certain regulatory conditions that affect community banks' ability to access funding from Federal Home Loan Banks (FHLBs), which provide critical liquidity to the housing market. As a member of the Senate Banking Committee, I will continue to advocate fair banking supervision and safeguarding the liquidity of the FHLB.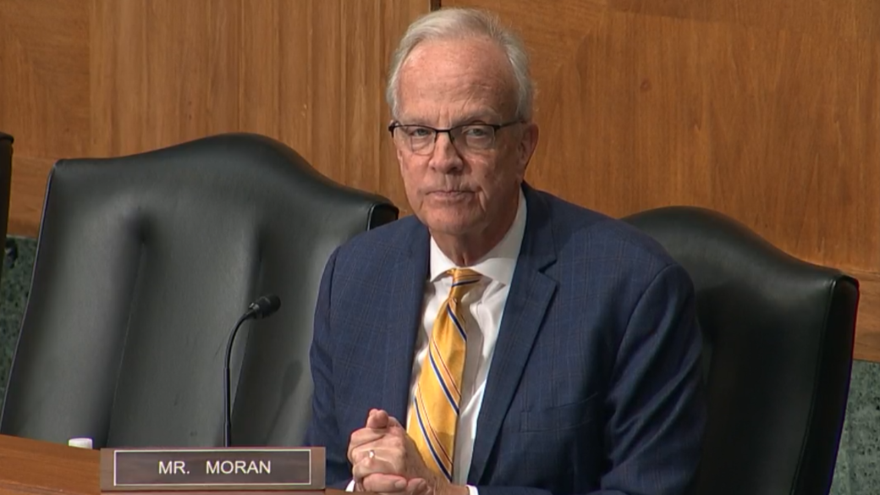 Meeting with the nominees of the Federal Deposit Insurance Corporation (FDIC) Board of Directors.
I had the opportunity to meet with Travis Hill and Jonathan McKernan on Thursday, who were nominated by the Federal Deposit Insurance Corporation (FDIC) Board of Directors. We discussed the current challenges facing our financial system and how federal regulators can best oversee financial institutions. These highly qualified nominees will balance the FDIC Board, and I am confident in their ability to lead the FDIC's mission to maintain stability and public confidence in our nation's banks.
Meeting with OxyChem
On Thursday, I met with OxyChem President Neil Ackerman to discuss the company's plans to modernize its chemical manufacturing facilities in Wichita. I appreciate OxyChem's continued commitment to investments in the Wichita area. During this meeting we also discussed working with nearby colleges to provide technical support and training programs to create a pipeline of highly skilled workforce and local talent for the industry. I am committed to supporting these manufacturing investments in the Wichita area and look forward to working with OxyChem towards that goal.
Kansan in the office
Capitol Tours
Trey Krizek from Overland Park

Kevin Krizek of Derby

Angelina Torizzo from Overland Park

Conner McCaulley of Derby

Rebecca McCaulley of Derby

JoAnne Harris of Wichita

Kevin Alexander of Attica

Angela Alexander of Attica

Isabel Alexander of Attica

Jack Alexander of Attica

Amari Lewis from Kansas City

Adrian Torres from Kansas City

Dylan King from Shawnee

Jennifer King from Shawnee

Jameson King of Shawnee

Karen Siebert from Prairie Village

Brian Linn from Goodland

Monte White by Salina

Shayna DeGroot from Manhattan
National Immigration Law Center and United We Dream
Amari Lewis from Kansas City

Adrian Torres from Kansas City
Global Medical Response
Tina Wells from Topeka
Kansas Wesleyan University
dr Matt Thompson from Salina

Doug Keesling from Chase
BNSF Railways
Vern Vanausdall of Baldwin City

Steve Titus from Hiawatha
Kansas LENDING
Stephanie Coleman

Jessica shaker

Rene Jamison

Crystal Danko

Ashlyn Marx

Sydney Walls

Kurtney Christopher

Kal Christopher

Karen cross
Kansas Soybean Commission
Dennis Gruenbacher from Andale

Susan Gruenbacher from Andale

Berryton's Bob Haselwood

Gary Louis of Merriam

Kaleb Little by Topeka

Dennis Horn from Topeka
immigration voice
Dhivakar Jewan Kumar of Wichita