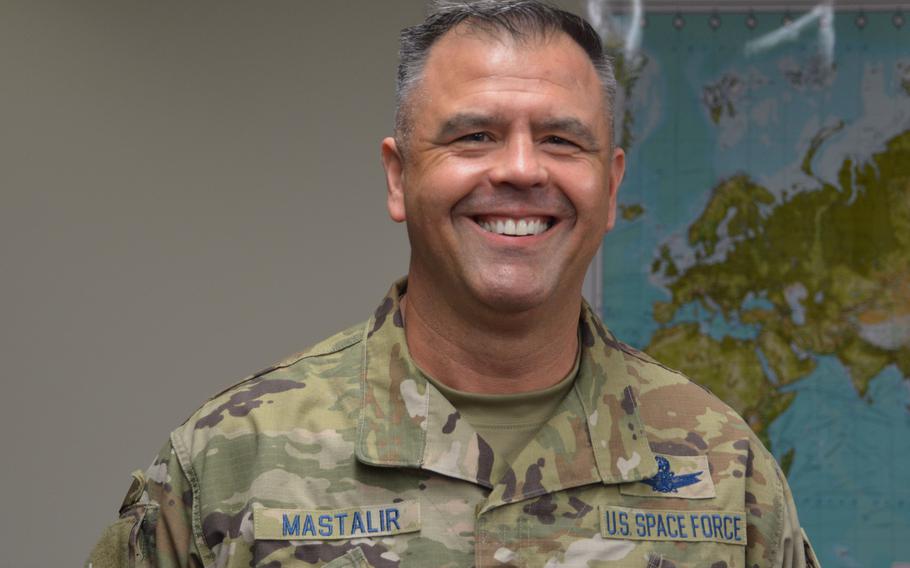 JOINT BASE PEARL HARBOR-HICKAM, Hawaii — The US Space Forces Indo-Pacific Command will become the fifth component command in the region when it is activated Tuesday during a ceremony in Hawaii.
It joins the US Pacific Fleet, US Pacific Air Forces, US Army Pacific Command and US Marine Corps Forces Pacific – all headquartered on Oahu – as component commands under US Pacific Command, the region's combatant command.
At the helm is Brig. Gen. Gen. Anthony Mastalir, who was most recently Special Assistant to the Commander, Combined Force Space Component Command, U.S. Space Command, at Vandenberg Space Force Base, California. Before that he commanded the 30th Space Wing and the Western Launch and Test Range at Vandenberg.
The activation of the US Space Force's Indo-Pacific Command is a message to the world that the region is "absolutely critical" to the United States, Mastalir said Monday during a media roundtable at Joint Base Pearl Harbor-Hickam.
"It is a signal to anyone who wishes to undermine either the freedom of navigation, freedom of movement within a free and open Indo-Pacific, or the international rules-based order that is the basis of prosperity for all free nations that choose to participate." ' Mastalir said.
"So you bet we're here: Guardians of INDOPACOM."
Established in December 2019, the Space Force is tasked with training and equipping military forces to protect U.S. interests in space and provide combat capabilities to the nation's combined force. She is responsible for the acquisition of military space systems.
The new component command will undergo mission analysis and planning for the next six months, Mastalir said. This analysis will help determine whether Guardians should be permanently or temporarily assigned to Army, Marine, Navy and Air Force components, he said.
The number of Guardians initially serving with Space Forces Indo-Pacific will be small, far fewer than the thousands of Airmen, Soldiers, Sailors and Marines in the ranks of the existing components.
"It's not hundreds; it's tens,' said Mastalir, without giving an exact number.
He's been on the island for about a month, preparing for activation, not least of which is grappling with how best to deploy a small group of Guardians.
"My goal is for guardians to take on tasks that only guardians can do," he said. "And the reason I'm saying that is because I don't have enough Guardians – the nation doesn't have enough Guardians – to do everything. So we have to be very specific about the tasks we take on.
"If I was the biggest component, I wouldn't worry about that," he said. "I have a lot of staff. But I'm not. I'm an order of magnitude, in some cases two orders of magnitude, smaller than the other components."
Indo-Pacific Guardians will focus on integrating space into operational plans and contingency plans to ensure other component commanders "undoubtedly maximize the combat effects resulting from this nation's space capabilities," he said.
Those capabilities could be in the Indo-Pacific theater or in orbit, Mastalir said.
"We don't need to own or control these resources as a space component to ensure the other components maximize their combat effectiveness," he said.
For example, the Air Force operates Space Fence on Kwajalein in the South Pacific, which can simultaneously track 200,000 pieces of space debris orbiting the Earth.
Guardians could use the data Space Fence generates, among many other platforms, to achieve INDOPACOM's goals.
"So we don't have to run the space fence to take advantage of how it contributes to space awareness," he said.
"Really, I'm not sure which platform is providing this data. I just have to make sure it gets factored into the operational plans and contingency plans that we will be executing."