The Arizona Wildcats are playing their best defensive football of the season at just the right time.
After allowing four straight competitors to score between 45 and 49 points, Arizona has allowed 28 and 31 points in the last two games. The latter is misleading in that Washington State's 10 points were a direct result of turnovers, including an interception returned for a touchdown.
"I thought our defense probably put in the best performance of the year," UA coach Jedd Fisch said Monday amid preparations for Friday's Territorial Cup match against Arizona State.
"Although I would argue that the performance against UCLA was pretty good too. I think they've played 10 very good football quarters in a row now."
Fisch brought it back to the second half of the Utah game on Nov. 5. The Wildcats had 17 points in the last 30 minutes. Counting just the points ceded by defense, Arizona conceded 69 points in those 10 quarters. That equates to almost 28 per game. For the season, the Wildcats allow 36.6 points per contest, the second-highest in the Pac-12.
Asked about the recent improvement in defense after the WSU game — a 31-20 loss — Fisch said:
"The growth is due to the number of young players we play against. At the start of the season I'd say we were probably playing somewhere in the 13-14 player range on defense. I think we're playing with around 19-20 players now, so they're fresher. They come in with more pass rush. That's a big part of a pass rush.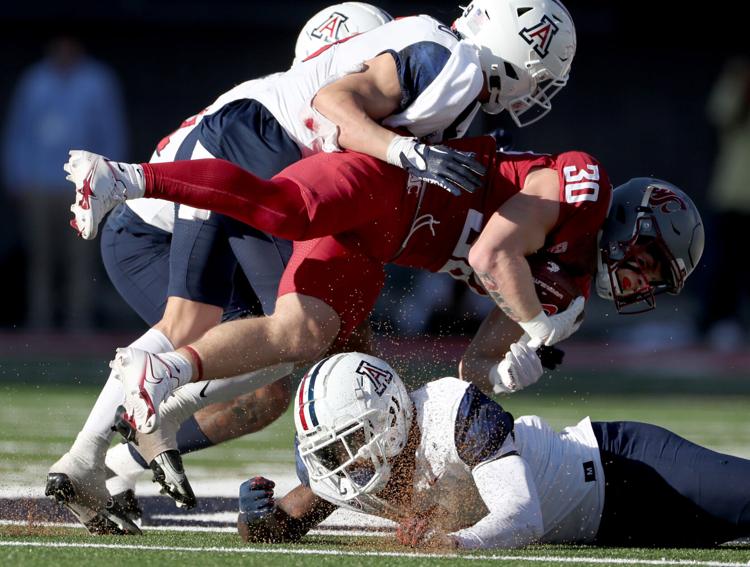 "Some of our stresses have started to come home as Jacob Manu has been able to really influence a lot of the passing rush just by interfering with some of the stresses. We were a bit more aggressive with our safeties in the blitz scheme. Gunner Maldonado showed up a lot in the backfield today.
"I also think they just got better. It's a real progression of a team with a coordinator for the first year (Johnny Nansen), the first year they're all together and it just keeps getting better."
The growth in defense is also reflected in the yards allowed per game. Each of the last three opponents — Utah, UCLA, and WSU — averaged 6.1 yards or fewer against Arizona. Four of the previous five opponents averaged 8.1 or more.
Unfortunately for the Wildcats, their offense against the Cougars took a step back. Arizona's 20 points tied his second-lowest performance of the season. The Wildcats' four sales hit their season highs.
Several times, UA quarterback Jayden de Laura and his receivers have been out of step with each other. One such fall resulted in de Laura and receiver Dorian Singer pushing each other to the sidelines. Another resulted in an interception. A missed protection resulted in the aforementioned pick-six.
"Two of our interceptions came from making mistakes that we haven't made all year," Fisch said. "All in all, we weren't good enough. We weren't in sync and we need to get better."
"Everything I can use"
ASU interim coach Shaun Aguano is pulling out all the stops to motivate his team, which is 3-8 and has lost three straight games. Among other things, he drew the Sun Devils' attention to pranksters who painted the "A" blue and red on Tempe's version of A Mountain over the weekend.
"I made sure our kids saw that," Aguano told reporters Monday. "I also made sure our kids saw their little scuffle on the sidelines. Anything I can use.
"We played the Arizona fight song during the stretch today. They weren't happy about it, and that's a good thing."
Bypassed for Biletnikoff
Singer and Jacob Cowing both passed 1,000 receiving yards last week. It's the first time two Wildcats have rushed for more than 1,000 yards in the same season. Singer (1,014) and Cowing (1,001) rank ninth and tenth, respectively, nationally.
"It's pretty cool to have two 1,000-yard receivers with one more game," Fisch said.
However, neither Singer nor Cowing were among the 12 semifinalists for the Biletnikoff Award announced Monday.
This group includes the national leaders in receptions (Xavier Hutchinson of Iowa, 105), yards (Rashee Rice of SMU, 1,208), and touchdowns (Jalin Hyatt of Tennessee, 15). That includes USC's Jordan Addison, who missed two games and didn't come close to matching his production from 2021 when he won the Biletnikoff Award in Pittsburgh.
Addison ranks 10th in receptions (51) and eighth in yards (765) in the Pac-12. Singer ranks fourth in catches (64) and leads the league in yards. Cowing leads the league in catches (80) and ranks second in yards. Addison is the first to get touchdowns (eight) with UA freshman Tetairoa McMillan.
Return of the D-Linemen planned?
Fisch said he's confident at least two of three defensemen eliminated against Washington State will be available Friday.
The Wildcats were missing veterans Paris Shand and Dion Wilson Jr. and freshman Sterling Lane II. Shand missed his second straight game. Fisch said all three were out for "medical reasons."
"We're waiting to find out exactly where we are medically once they're cleared," Fisch said. "There are certain protocols that we have to go through before they get full clearance. After a hard day we will know better, practice to get a feel for where that is. But assuming everything goes according to plan, they would definitely be good to go."
Shand has appeared in nine games, including seven starts. He has 23 tackles, 2.5 sacks, two forced fumbles and one fumble recovery.
Wilson has appeared 10 games. He has 19 tackles, one sack and one pass separation.
Lane has appeared in five games. He has eight tackles, seven coming against Utah and UCLA.
extra points
Fisch said Friday's game will be a "red out" for UA fans. The team wears blue or white jerseys.
The Wildcats will have a different schedule this week. They treat Monday/Tuesday/Wednesday as they normally would treat Tuesday/Wednesday/Thursday. On Thanksgiving morning, players, coaches and their families eat breakfast together. On Thursday afternoon, the team will complete its typical Friday training session. Players have the weekend off before meeting up again on Monday.
Fisch wasn't sure how many players would attend the Senior Day ceremony on Monday. Six Wildcats are ineligible after the game: Offensive Linemen Josh Donovan and Paiton fears; defender Jalen Harris and Hunter Echols; linebacker Jerry Roberts; and security Christian Young. Fisch said Arizona has 14-15 "academic seniors" who could also participate. These players are either fourth or fifth year students.